Description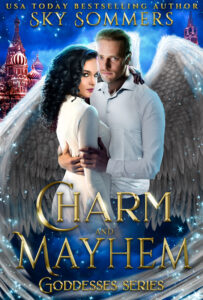 Hiring a hot angel as her bodyguard was a smart business move… wasn't it? Strictly business.
After a stint in the Magic Kingdom, Marina returns to her glitzy Moscow life as the new Goddess of Fate with an angel in tow. Gabriel, a former guardian is atoning for his decisions as Fate's bodyguard. First order of business: keep Marina's jealous ex away from her. Second: restore magic on Earth. As Marina tries to explain botox and face control to Gabriel, the olden Goddess of Fate has schemes of her own.
Will Gabriel be able to let go of the past? Can Marina navigate the mayhem of her new job with charm alone or will she remain a goddess without magic? And how exactly do you tell your FSB-anointed father you're now immortal?
He's Charm, she's Mayhem. Can they restore Earth's magic together without falling for each other?
Charm & Mayhem is book #1 in the Goddesses Series and happens after the events of Goddesses: The Bet and To Make A Wish and can be read as a standalone from both of these stories.
Leading Characters
Marina
The Goddess of Fate
A rambunctious Russian just back from her 36-year stint in the Magic Kingdom and back to being 25 again.
Gabriel
Guardian angel
Atoning for a previous misdeed, Gabe followed Marina to Earth to serve as her bodyguard.